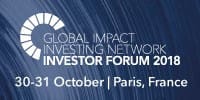 The Global Impact Investing Network (GIIN) Investor Forum 2018.
This year's GIIN Investor Forum 2018 will be the largest global gathering of impact investors; join us on the 30-31 October in Paris to meet with peers, potential partners and co-investors from around the world.
The Forum provides a unique opportunity to gain insights from industry leaders, discuss cutting-edge research, and network with over 1,000 global practitioners.
Whether you are currently making impact investments or exploring the opportunities, don't miss this opportunity to can hear from industry leaders and take part in the discussions shaping the future of the market.
Your unique 10% discount code for members is: ILPA-GIF18. Visit the website for more information and to book your place http://www.impactinvestorforum.com/gif18.