ILPA Summit Europe – Emerging Manager Showcase | Save the Date: April 26-27, 2022
In January 2020, ILPA successfully brought our highly efficient and proven approach to building LP /GP relationships to Europe for the first time. The 2021 ILPA Summit Europe will be brought to you virtually and will include the EM Showcase which will be integrated into the main Summit. Qualified EMs and engaged LPs are scheduled to meet based on optimized preferences to ensure productive and mutually beneficial meetings. ILPA uses a proprietary algorithm created specifically for this unique event and including a ranking system which is modified annually to continue improving attendee schedules. The 2021 Virtual Summit Europe was held virtually and we are hoping to welcome everyone back in person in 2022
Save the date for the 2022 ILPA Summit Europe, April 26-27.
The application process for the ILPA Summit Europe EM Showcase 2022 is now open. If interested, please fill out an application located on the right hand side of this screen. The deadline for applications is February 11, 2022. For any questions at this time, please reach out to Sara Mikolich at summit@ilpa.org.
Ideal Applicants are:
Raising a first or second fund (first institutional fund or small spinout of existing manager) but all candidates will be considered.
Focusing on any sector, strategy & geography with the exception of  infrastructure, real assets or real estate
Seeking a minimum target fund size of $100 million
Application process is now open!  Deadline for applications is February 11, 2022.
More about the ILPA Emerging Manager Showcase
In response to our members and their needs, we have decided to integrate the Emerging Manager Showcase with the main Virtual ILPA Summit Europe this year which means 2 days of networking and more 1-on-1 time with LPs. The Emerging Manager Showcase brings the proven process and energy of the ILPA Summit to the highest caliber, up-and-coming teams of new managers.  This highly-anticipated, event leverages the groups meetings to optimize time and maximize connections, creating an experience like no other.
How does the event work?
The Emerging Manager Showcase will feature up-and-coming managers for LP attendees to meet in carefully coordinated group sessions running simultaneously with the main ILPA Summit Europe event on April 26-27. Each manager has an exclusive meeting with LPs during 40-minute periods, offering a deeper dive meeting opportunity.  Your ILPA Summit experience includes two days of content, networking events and a custom meeting schedule based on your preferences.
Why do Emerging Managers Participate in the Showcase?
It's Exclusive:  The event is strictly limited to 5 managers. Previous NY Summit events' Emerging Manager spots were oversubscribed
It's Targeted: In previous years at NY Summit, ~75 LP organizations (125 individuals) specifically interested in Emerging Managers participate in the EM Showcase
It's High Caliber: Attendees consistently note the high quality of attendees (both GPs and LPs) at the showcase
It Works: Managers met on average 20 LPs and cultivated new, productive relationships through their attendance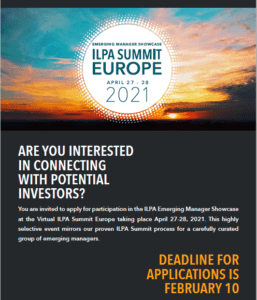 Applications are now being accepted for the 2022 event.
Please note: As ILPA is an association for investors in private equity, GPs applying should note that funds that are very niche focused or focused on real assets, infrastructure and real estate are most likely not a fit for the ILPA Summit. General Partner attendees include Buyout, Growth, Distressed, Mezzanine, Secondary, Venture Capital, and select specialty funds from around the world.
How do Emerging Managers attend?
To be considered for the showcase, all potential managers must submit an application form.  Managers are then reviewed and qualified during an application process by a committee of LPs active and interested in this space, to ensure a diverse and broad group of managers.
Please submit an application using the form on this page.
Managers at the EM Showcase 2021