ILPA Summit Goes Virtual | November 9-11, 2021
The 2021 ILPA Summit will be held in a virtual format on November 9-11, 2021. The Summit will be spread out over the course of 3 days, offering flexible timing to accommodate our global audience and offer load sharing of the LP-GP meetings with your team members.
We were thrilled to have over 960 registrants and scheduled over 950 1X1 meetings between LPs and GPs at our 2020 Virtual ILPA Summit.
Over the last 16 years, ILPA Summit has become known as an important industry event, and as a time and cost effective forum for meeting with private equity professionals to develop, build and maintain long-term relationships. Qualified GPs and engaged LPs are scheduled to meet based on optimized preferences to ensure productive and mutually beneficial meetings. ILPA uses a proprietary algorithm created specifically for this unique event and including a ranking system which is modified annually to continue improving attendee schedules.
How do I confirm my participation?
Registration is limited to 85 GPs. In order to ensure a diverse mix of GP participants, all registrants are qualified by the ILPA Summit Committee before registration is considered final.
Please contact Sara Mikolich at summit@ilpa.org for more information. All new GP registrants must be pre-approved. If you are interested in applying, please fill out the application on this page to be reviewed by the ILPA Summit Committee. If approved, your organization will be added to the approved invitation list for the 2021 event.
2020 Highlights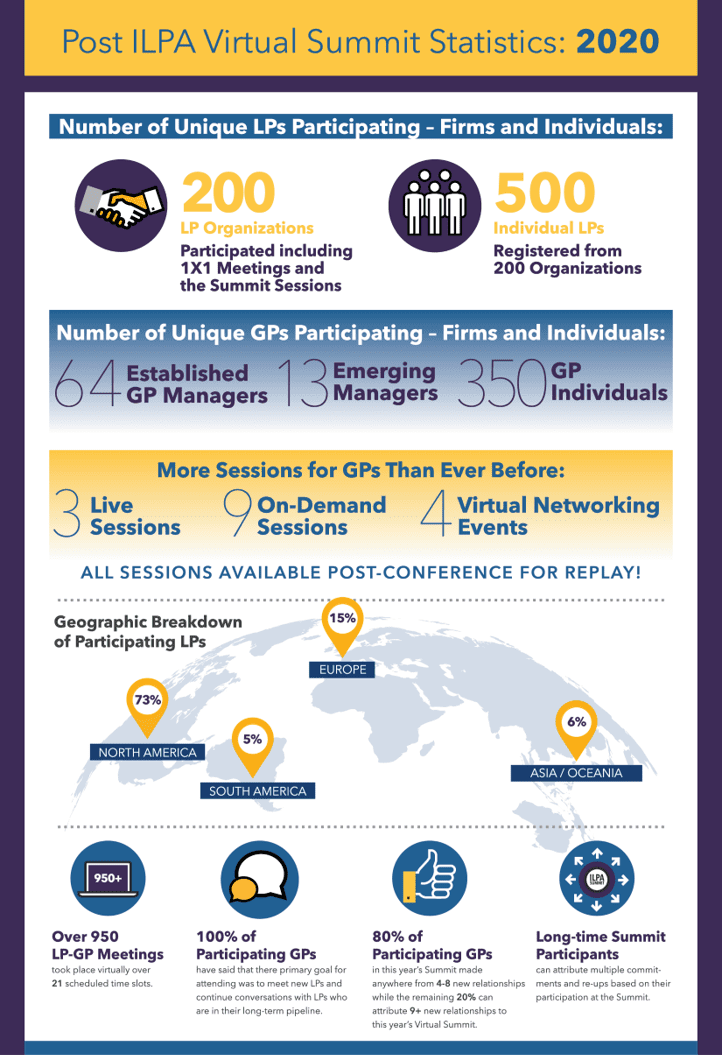 How is the ILPA Summit experience different from other events?
The intimate LP/GP meetings are the main focus of the event
The ILPA uses a sophisticated matching tool to generate meetings based on mutual interest
The proprietary, custom-built software system collects each LP and GP's rankings to generate a personalized meeting itinerary
All participating GP organizations are vetted by an LP screening committee prior to being invited to register; all LP attendees are high-quality, accredited institutional investors
Past surveys of GP participants have confirmed that respondents attribute relationships built at the Summit to an average of 3-4 LP commitments and 3-4 re-ups
Applications are now being accepted for the 2021 event.
Please note: As ILPA is an association for investors in private equity, GPs applying should note that funds that are very niche focused or focused on real assets, infrastructure and real estate are most likely not a fit for the ILPA Summit. General Partner attendees include Buyout, Growth, Distressed, Mezzanine, Secondary, Venture Capital, and select specialty funds from around the world.
2020 Virtual ILPA Summit General Partner Participants
17 Capital
57 Stars LLC
AE Industrial Partners, LLC
AEA Investors
Antares Capital
Aquiline Capital Partners
Ardian
Ares Management LLC
Argand Partners
Arsenal Capital Partners
Asia Alternatives
ATL Partners 
BRS & Co.
Cerberus Capital Management
Certares
Clayton, Dublier & Rice
Coller Capital
Cornell Capital
Development Partners International
EnCap Investments
Eurazeo
Francisco Partners
Great Hill Partners
Great Point Partners
Gryphon Investors
Harbourvest Partners
Hollyport Capital
JAB Consumer Fund
JMI Equity
K1
Kelso & Company
Kohlberg & Company
L Catterton
Landmark Partners
Levine Leichtman Capital Partners
Lexington Partners
Lovell Minnick Partners
Midocean Partners
New Mountain Capital
Nordic Capital
Paine Schwartz Partners
Palladium Equity Partners, L.L.C.
Permira Advisers (London) Ltd.
Quad Partners
SK Capital Partners
Stone Point Capital
Strategic Value Partners
Strattum Capital Management
Stirling Square Capital Partners
Sumeru Equity Partners
Sun Capital Partners
The Halifax Group
The Jordan Company
The Raine Group
Thoma Bravo
TowerBrook Capital Partners
Triton Partners
Unison Capital
Vista Equity Partners
W Capital Partners
Warburg Pincus
Warwick Group
Welsh, Carson, Anderson & Stowe
The GP Summit is unique. There is no other event like this where you get 10 quality meetings in a day and a half. The rest are just general conferences.
It's invaluable LP networking. There is no other opportunity to market to the ILPA membership.
The ILPA brings together our senior people and those from the LP universe without having to fly everywhere. Logistics is a key benefit.
ILPA is quite unique. You guys are best in class in terms of getting us in front of investors.
We can meet with prospective investors efficiently. It saves us multiple days of travelling around the world and we can stay in front of this group even when off cycle.
Our schedule was fantastic. Thanks again for another great event.
Excellent job on the conference, everything went smoothly. Overall, we liked the quality of our schedule and the level of professionals that we met.