ILPA's Private Markets Edge is a quarterly e-magazine for ILPA members focused on evergreen issues facing the global LP community as well as new and emerging topics.
Feedback and questions on ILPA Private Markets Edge should be directed to privatemarketsedge@ilpa.org.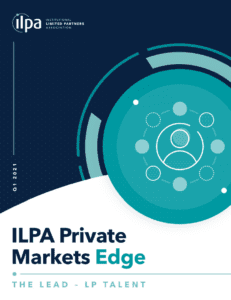 Inside this issue, ILPA members will:
Hear from CEO Steve Nelson about how 2020 served as a reminder of what is truly our industry's most valuable asset -  people
Get inspired to Take Action on talent:

Take a look at ILPA's assessment of the talent challenge and glean insights on how to tackle its myriad components
Go deeper on compensation and consider the broader aspects of an LP organization's employee value proposition
Watch ILPA's video interview with expert Renee Neri of Heidrick & Struggles
Hear from two ILPA members on their approach to recruitment and staffing

See what is Top of Mind for LPs and learn more about SPACSee what is Top of Mind for LPs and learn more about SPACs
Prepare for potential regulatory change from the new Biden-Harris Administration and listen to an audio interview on AIFMD with Elli Sistonen of Varma in Policy Corner
Discover opportunities to Get Involved in ILPA virtual events and education and to weigh in on ILPA priorities and content
ILPA's Matt Kelly joins Renee Neri of Heidrick & Struggles to discuss the challenges and related opportunities on Talent for limited partners.
ILPA's Chris Hayes joins Elli Sistonen of Varma for an audio discussion on the European Commission's Consultation on AIFMD and related industry priorities.
Featured Voices of Private Equity Podcast
In This Episode:
In a special conversation, originally hosted at ILPA's Virtual Summit last fall, Orlando Bravo of Thoma Bravo and Theresa Whitmarsh of the Washington State Investment Board join Jen for a candid discussion on the specific roles that GPs and LPs are playing to advance DEI in the industry.
Theresa and Orlando weigh in on the responsibility of the LP to drive GP action on DEI. Orlando shares the importance of listening to younger voices on the team and thinking not just about culture "fit" but culture "add." Theresa highlights the silver lining of the work from home era in widening the talent pool and WSIB's approach to recruitment, and both share the steps their organizations are taking to create a culture that is truly inclusive.